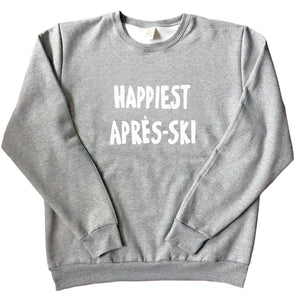 The Après-ski sweatshirt, in grey, is a classic crewneck design and cut, with professionally printed matte white lettering. It is considered a unisex fit.
If you love hitting the local pub, your ski chalet for a nap, or soaking in the hot tub after a long day out on the slopes, then this sweatshirt is for you! Whatever social activities or entertainment you enjoying after skiing, let this sweatshirt keep you cozy while doing so!
Garment Details:
• 50% Cotton and 50% Polyester Fabric. Incredibly soft and cozy on the inside! 
• Suggested care is to wash gently in cool water and tumble dry low, inside out
• 100% Designed, Made and Printed in Canada
SIZING 
The chest is measured from one inch (1") below the arm hole straight across the front.
The length is measured from the top of the neckline on the back to the bottom of the hem. 
SMALL - 20 inches (chest) + 26 inches (length)
MEDIUM - 21.5 inches (chest) + 27 inches (length)
LARGE - 23 inches (chest) + 28 inches (length)
EXTRA LARGE - 24.5 inches (chest) + 29 inches (length)
2x EXTRA LARGE - 26 inches (chest) + 30 inches (length)