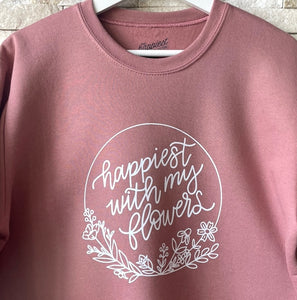 HAPPIEST WITH MY FLOWERS
For the flower lover, this is a perfect piece for staying cozy while in your garden, arranging home floral bouquets, or just letting those around you know how much your love fresh flowers!
Garment Details:

50% Cotton and 50% Polyester Fabric. Incredibly soft and cozy on the inside! 

Suggested care is to wash gently in cool water and tumble dry low, inside out
Gorgeous warm Dusty Rose colour with matte white professionally printed vinyl

100% Designed, Made and Printed in Canada
SIZING 
Chest is measured from one inch (1") below the arm hole, straight across the front.
The length is measured from the top of the neckline on the back to the bottom of the hem. 
SMALL - 20 inches (chest) + 26 inches (length)
MEDIUM - 21.5 inches (chest) + 27 inches (length)
LARGE - 23 inches (chest) + 28 inches (length)
EXTRA LARGE - 24.5 inches (chest) + 29 inches (length)
2x EXTRA LARGE - 26 inches (chest) + 30 inches (length)