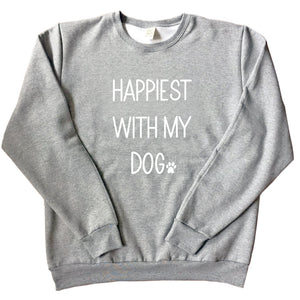 Happiest with my Dog! Enjoy a nice cuddle on the couch or a walk in the park with your favourite pooch in this comfy and cozy sweatshirt. 
The sweatshirt, in grey, is a classic crewneck design and cut, with professionally printed (vinyl heat sealed) matte white lettering. 
Garment Details:
• 50% Cotton and 50% Polyester Fabric. Incredibly soft and cozy on the inside! 
• Suggested care is to wash gently in cool water and tumble dry low, inside out
• 100% Designed, Made and Printed in Canada
SIZING 
Chest is measured from one inch (1") below the arm hole, across the back AND front. Divide the number in half to get inches across per front/back. (ie: 43" chest is 21.5" across the chest and 21.5" across the back).
The length is measured from the top of the neckline on the back to the bottom of the hem. 
SMALL - 43 inches (chest) + 26 inches (length)
MEDIUM - 46 inches (chest) + 27 inches (length)
LARGE - 49 inches (chest) + 28 inches (length)
EXTRA LARGE - 52 inches (chest) + 29 inches (length)
2x EXTRA LARGE - 55 inches (chest) + 30 inches (length)